Cockroach Dialogues – Theatre Review
A review by Rachel Flanagan
If the world was destroyed in war and destruction, the cockroach would be the singular survivor. Welcome to the dreams of one struggling actor whose reality is wrecked by the Cockroach Dialogues. Mark Binet is Wayne, a guy who moved to LA with his singer girlfriend Tea (Asia Lynn Pitts) to make their dreams of being stars come true. However, with little money coming in due to a lack of work and their hunger, for both food and a break, growing stronger and more desperate by the minute, Wayne becomes plagued by dreams of a giant cockroach who talks to him.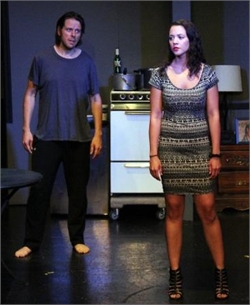 As Wayne argues with the cockroach over food, Tea meets her own version of a cockroach as Bob (Andy McQuade), a sleazy record producer who offers Tea a lunch date with a hotel room dessert. The hunger and nightmares swirl as Tea and Wayne try to figure out whether their dreams of the big Los Angeles lights are worth the nightmares that plague them day and night. A beautiful and creepy take on the struggles that many people experience in trying to make their dreams come true. Will they hang around with the likes of the cockroach or will they do what makes them happy, even if it means leaving the bigger dreams behind.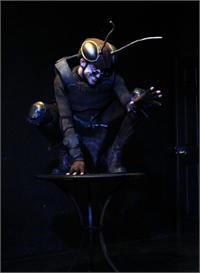 It is no wonder that the Cockroach Dialogues received a Fringe Encore as it is brilliantly written and very well acted. Major props go to Jeryd Pojawa for the amazing costume design of the cockroach and Demitris Hartman who played the cockroach in a gross and yet slightly endearing sort of way. If life is a nightmare and a dream combined into one that no can awake from, they may soon find themselves in their own Cockroach Dialogues.
http://www.hollywoodfringe.org/projects/3550?review_id=1
Photos by Marni Lustig
---
Posted By Rachel Flanagan
See the full review on the Hollywood Fringe page by clicking Here
See the full review on Discover Hollywood by clicking Here