A while ago I bought tickets from an online ticket site and with those tickets came a free subscription to Entertainment Weekly magazine.  So I read the magazine but then I have all of these magazines lying around now.  Lately, I've been working on decluttering and cleaning up and organizing my apartment… and life, I guess, so I decided to do a little craft project by looking up different things you could do with magazine pages. Pinterest to the rescue of course!
The biggest thing I could find were paper flowers. So I decided to make me some paper flowers, the easiest two I could find.  Paper roses and, well I don't know what the others were called but they were fun.  The paper roses weren't very good but the other kind turned out alright .
Here are some photos of my crafting attempts of these magazine paper flowers below.
The main flowers I kept seeing were these beautiful table flowers for Rock and Roll Bride.
So I didn't have shredding scissors or floral tape but I had scissors so I figured I had enough to make these work.  The most recent Entertainment Weekly magazine I had featured Outlander on the cover – it was dated March 4th.   This particular magazine didn't have a whole lot of pages with good color schemes but I found an ad for crackers that was mostly red, an add for the Real O'Neils that was green and a lovely black and white photo of Ryan Reynolds… oh Ryan Reynolds.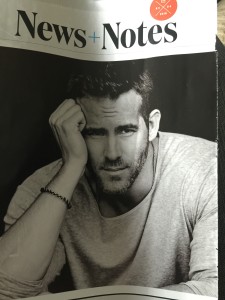 Oh super adorable Ryan Reynolds.   So the steps, basically you fold the paper up and then cut it.  I don't know if maybe Vogue pages are a lot bigger than Entertainment Weekly because the flowers in the pictures look so much fuller than mine do.
First picture are the folds, then the cuts (which might take a few more cuts but work fine with regular scissors) and then the final product.  I didn't take any photos wrapping the paper around the skewer – but I tried wrapping them three different ways to see if I could get a fuller look and it just wasn't working.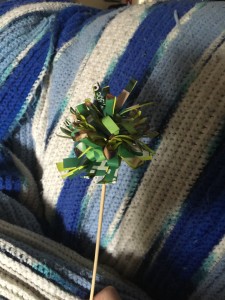 Here is the green one I did. This was actually the first one I did – the Ryan Reynolds one was second and then the red one was third.
Here is the completed "bouquet":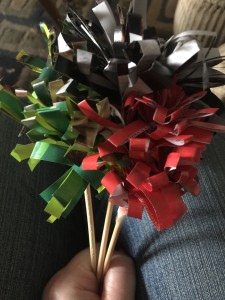 The other thing I found were the paper roses. I have no link to any decent instructions because most of them weren't very good. I didn't even take pictures trying to do it because magazine paper seems to only work well for this if it's thick and sturdy.  The basics of it are that you cut a square page into a spiral and then roll the spiral around so that it turns into a "rose":
It doesn't look terrible but  I ended up doing two spirals and combining them to – again – try to make the flower look fuller.  So I guess – all in all – a thin magazine and small pages may not be the best for these flowers, but I put them all in a vase and I have a little paper bouquet sitting on my faux mantle.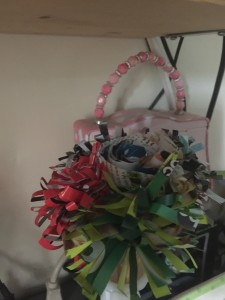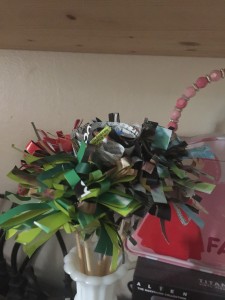 And there you have some craftastic craft attempts!