Front Page Featured Article in Discover Hollywood Spring 2016 Magazine
Issue: Spring 2016
The Max Factor Effect
Rachel Flanagan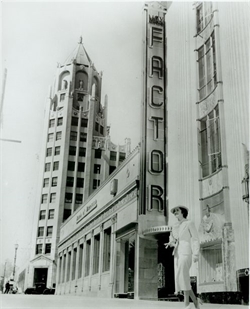 An international cosmetics brand, Max Factor, is the name of the man who established a foothold in Hollywood and the classic look of Hollywood's Golden Age. He coined the term "make-up" and defined glamour. Born Maksymilian Faktorowicz, one of ten children in Lodz, Poland, at the age of seven, he learned of the world of make-believe working at the Czarina Theatre selling oranges, peanuts and candy. At eight, he learned chemistry as an apothecary's assistant and at nine, he learned of wig making and cosmetics. By fourteen, he worked for the cosmetician to the Imperial Russian Grand Opera. Following compulsory military service, he opened a small shop in Moscow where he made and sold his own creams, rouges, perfumes and wigs and became the on-call personal cosmetician to Alexander Nicolaivich Romanoff, uncle to Czar Nicholas II, and the Imperial Russian Grand Opera.
On February 13, 1904, Max Factor and his family boarded the Molka III secretly leaving to start a new life in America. After a series of misadventures and two failed marriages, he married his third wife and moved with his five children to California with the intention of supplying cosmetics and hairpieces to the developing motion picture business.
Los Angeles was a different world in 1908 when Factor and his family opened a little shop on the edge of downtown, "Max Factor's Antiseptic Hair Store. Toupees made-to-order. High Grade Work."  When Max discovered ghoulish looking actors were using stage grease paint, which did not look good on camera, he began perfecting a better make-up product for camera. Max established his foothold as the go-to for cosmetics and wigs in Hollywood when, in 1913, he persuaded Cecil B. DeMille to rent his wigs and, as collateral, DeMille hired Factors' three sons as extras for three dollars per day, and in 1914, when he created a cream grease paint in twelve shades suitable for film.
Soon the Factor store became the source for the burgeoning movie industry. Comedians Charlie Chaplin, Buster Keaton, Fatty Arbuckle and Max Turpin, among others, not only used the new product but requested that Factor personally apply it. He began opening his store at 5:30 am to accommodate the actors but it wasn't long before the performers wanted to be made up on location or at their studios. Max Factor was in high demand!
By 1916, Max Factor & Company moved to the prestigious Pantages Building downtown and continued his cosmetic inventions. He created false eyelashes for Phyllis Haver, who wanted vamp roles, a yellow make-up to lighten up Rudolph Valentino's skin for roles other than a dark villain. He created perspiration-proof body makeup and even cinematic sweat. He even created a fake meringue that would plop but not run too quickly when pies were thrown. He relaxed Mary Miles Minter's curls turning her into a young sophisticate and turned Jean Harlow into a "platinum blonde." Max Factor knew how to enhance performers' good points and conceal their lesser points, so when he worked his magic, everyone listened. When he outgrew that studio, Factor moved to "The House of Make-up" at 326 South Hill Street.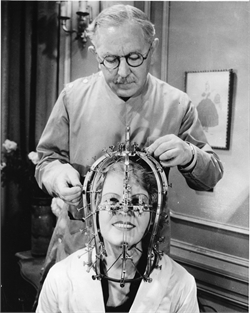 As Hollywood grew, Factor continued conceiving new products, like the Color Harmony line in 1918 with a wider range of shades to harmonize with many skin tones. This was the revolutionary concept that he hoped would convince all women to embrace make-up. Until Max Factor, the phrase "make-up" had always been distasteful, and respectful society did not use make-up.  While Factor had always referred to his products as the hyphenated make-up, it was not until July 9, 1920 that he gave into his son and officially began calling his products "make-up."  It soon caught favor worldwide.  Max Factor's children were always an integral part of his business and helped his business flourish even creating inventions of their own.
As the movie business changed film, lighting, from black and white to color, Factor was busy formulating new make-up that would work for each new invention in the industry and his customers, all famous actors, were happy to help test products. The creation of Pan-Cake make-up for Technicolor film was, according to Frank Factor, one of Max Factor's greatest inventions as "it became the fastest and largest selling make-up item in the history of cosmetics."
On November 26, 1935, stars came in droves for the Grand Opening of the "Max Factor Make-Up Studio" on Highland Avenue in Hollywood.  The studio included a salon and four make-up rooms, "For Brownettes Only," "For Brunettes Only," "For Blondes Only," and "For Redheads Only." Behind the salon were cosmetic research, biological and fragrance laboratories. On the top floors were offices, the hair department, and manufacturing and packaging facilities. Opening night was a huge success. Guests were given a gift, shook hands and congratulated Max Factor, and signed the "Scroll of Fame"-a who's who of film notables. The Max Factor Building housed fascinating inventions like the Beauty Calibrator, a torturous looking device that Factor created in 1932 to measure a person's face to create the "perfect face."
Three years later, on August 30, 1938, at the age of 61, Max Factor died. Frank Factor legally changed his name to Max Factor Jr. and continued the Max Factor legacy. They supplied unusual make-ups for characters in The Wizard of Oz, and continued making Hollywood's' leading ladies glamourous. They created Tru-Color lipstick, whose permanency was tested using the Kissing Machine, a device with two rubber lips, a crank and a pressure gauge.  From the 1920's to the 1970's, Max Factor produced all hairpieces seen in the movies and went on to create and perfect make-up for television.
As the golden age of Hollywood ended, the Factors left their executive positions within the company. Max Factor & Company did not escape the mergers turning large companies into giant conglomerates and swallowing the smaller firms. Acquired by Norton Simon Inc. in 1973, which became Esmark in 1983 and Beatrice companies, Max Factor was now a part of the International Playtex Division and headquarters moved east, eventually closing the doors of the Max Factor Building on Highland leaving only a smaller retail store and beauty shop behind. To help promote the brand during the 1984 Olympics, director of beauty Robert Salvatore opened a small but successful exhibit of Max Factor memorabilia in the first floor studios. In 1986, the company was sold to Revlon with the stipulation that the company return to Hollywood but this move did not last long as Procter & Gamble took over Max Factor in 1991 and moved the company back east. The museum remained open, but no one knew for how long. When rumors swirled that the Max Factor building would close, advocates worked tirelessly to "Save the Max." In 1996, the museum was sold to Donelle Dadigan, a real estate developer and Hollywood memorabilia collector. Donelle spent the next eight years restoring the building to the original 1934 plans and officially opened the Hollywood History Museum on July 24, 2003 with a star-studded event reminiscent of the glory days when Max Factor first opened the building nearly 70 years earlier.
Procter & Gamble still owns Max Factor and its products are still making women beautiful 100 years later. Max Factor did not invent the idea of using products to make someone beautiful or look a certain way for a theatre role, but he did create Hollywood beauty and for that, his legacy is forever captured in classic Hollywood films.  Thanks to the Hollywood History Museum, his story can be viewed at The Hollywood Museum. More importantly, the legendary Max Factor created and brought affordable beauty to the masses and made it acceptable for all women to enhance their natural beauty with make-up and to create their own glamorous mystique. DH
See the full Article on Discover Hollywood by clicking Here.
View The Digital Edition Print of the Magazine Here.