Featured Article in Discover Hollywood Winter 2017 Magazine
The New Hollywood


By: Rachel Flanagan
Adding to the "new" atmosphere at the repurposed historic 1938 CBS Radio Building, Columbia Square development, NeueHouse Hollywood is both a product of its environment and a fresh voice in the Los Angeles cultural landscape. A Modernist icon built by CBS founder Bill Paley who described the building as a "Machine for Broadcasting" it was the first building in the world purpose-built for what Paley described as the "new art and science of mass communication." As a co-working and social space for creative-class small businesses with seven stories of working environments, including repurposed sound stages and recording studios favored by generations of creative leaders such as Orson Welles, Lucille Ball, Bob Dylan, and artist Banksy, the house caters both to the film industry that exists at the heart of Los Angeles' identity and such budding fields as design, fashion, publishing and architecture that will define the city's future. Offering a slightly different set of amenities than NeueHouse Madison Square, the design takes full advantage of the Southern Californian climate, with two outdoor decks and plenty of natural light. NeueHouse Hollywood is a hub of public engagement and conversation—a center of culture that marries old L.A. with the new. Amenities include a restaurant, auditorium, roof deck, broadcasting studio, screening, meeting and listening rooms.
In February, new media powerhouse, Netflix, left Beverly Hills and opened their new campus in a 14-story Icon building in Hollywood. The Icon building is located on a 4.4-acre site on the northeast corner of the Sunset Bronson studios lot. Netflix, after originally leasing only part of the building, added the remaining stories to the lease taking over the entire building once construction was complete. Last September, Netflix leased some of the sound stages and other space at Sunset Bronson and in January signed another lease for CUE, a five-story, 92,000-square-foot office building also on the Sunset Bronson lot. All in all, Netflix now has a long-term lease agreement with Hudson Pacific Properties, a commercial real estate company that is the largest independent owner and operator of sound stages in the nation, for 560,000 square feet of office space, sound stages, production offices and support space at Sunset Bronson. Netflix has also taken over Sunset Bronson, the former Warner Bros. Studios where "The Jazz Singer" – The world's first talking picture was filmed in the 1920's. Other tenants of the studio include Tribune Broadcasting's KTLA, an affiliate of CW, who have been a part of the studio for over 50 years.
Hudson Pacific recently added the Hollywood Center Studio (formerly Zoetrope and 90 years of history) to its holdings and dubbed it Sunset Las Palmas.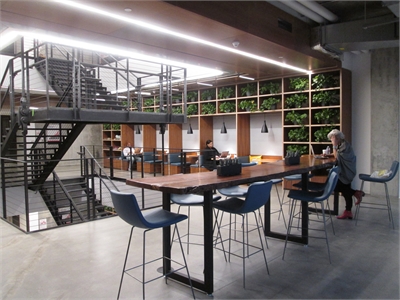 Stairway connecting Netlix' multi-level interior allows for easy access between building floors with creative nooks and meeting roomsWith powerhouses like Viacom and Netflix taking up space in Hollywood, producers and other industry folks have sighed in relief as they will have to spend less time in traffic traveling from Burbank to Century City to Santa Monica to Hollywood in LA's notorious traffic. Now executives can travel from their studio or office in Burbank to Viacom to Netflix to Buzzfeed Motion pictures and still have time to stop for lunch before heading back to their own office in more than half the time it used to take with offices spread all throughout Los Angeles.

Even musicians can feel some of the ease of less time driving from place to place as Fender Guitars relocated to Hollywood. Fender's new Hollywood location was built where CBS West Coast formerly resided. Most musicians either live in Los Angeles or travel through at some time or another, so having Fender headquarters in Hollywood opens more opportunities for musicians to engage with the manufacturer. The Hollywood digs are packed with schematics and patents as well as large-scale photos of well-known Fender players. By moving to the center of the music industry, Fender's future will connect digital and physical products. Fender isn't just trying to connect with musicians who already have a name for themselves, they're also looking to connect with aspiring musicians who are picking up a guitar for the first time. The increased focus on digital inventions includes an app with a primary purpose is to teach new players how to tune and play their new instruments.

New restaurants and hotels are setting up shop in response to the growing new media corporations making homes in Hollywood. and new projects are underway. An astonishing number of additional apartments will be built over the next decade. There is much more activity in Hollywood, reminding everyone that the evolving industry has returned to its roots. Sunset Bronson, Paramount, Sunset Gower, and Capital Records, among others, have remained a long-standing part of the Hollywood that once was. With the new Hollywood growth of entertainment corporations Fender, Viacom and Netflix moving in, the future of what will be is brighter than ever. Hollywood is where the magic began planting the seeds that grew from silent films to talkies to technicolor to the multi-faceted opportunities that the industry offers today. The rebirth is inspiring. Maybe you can go home again, and now, once again, you can shop, sleep, eat and most importantly, you can create here. DH

The revitalization of Hollywood, long in the making, is now the "it" neighborhood once again for the industry. Filming on soundstages in Hollywood is at its highest, much in part to the tripling of production tax credits in 2015 and corporate Hollywood is taking notice. Within the last year, Fender Guitars with media powerhouses Netflix and Viacom are now in the heart of Hollywood. Corporate Hollywood is once again embracing the neighborhood where Charlie Chaplin filmed silent movies, Max Factor created Hollywood starlets and where the early studios like RKO, CBS and Warner Bros. were once based.In January, Viacom, which includes cable channels like Comedy Central, MTV and VH1, moved from Santa Monica to a new modern media campus workplace in Hollywood. The new office features open floor plans, ping-pong tables, couches, giant screens and snacks to munch on throughout the work day but the most important feature is the view of the water tower in the Paramount studio lot down the street. Robert Bakish, the company's CEO believes the vicinity to Paramount is one of the most important aspects of the new building location, to build a brighter future integrating the work across each of the media brands. As the year is ending, Viacom and Paramount's financial numbers and outlook may not be rising as fast as they would want them to be when partying at their new office at the start of the year, but Bakish was for the stabilization of Viacom and the view looks good from their new Hollywood headquarters.The new campus format is more Silicon Valley than classic Hollywood studio. Open workspaces, conference rooms for collaborative meetings and employee perks including complimentary meals and snacks.
See the full Article on Discover Hollywood by clicking Here.