Liana and Ben – Theatre Review
by Rachel Flanagan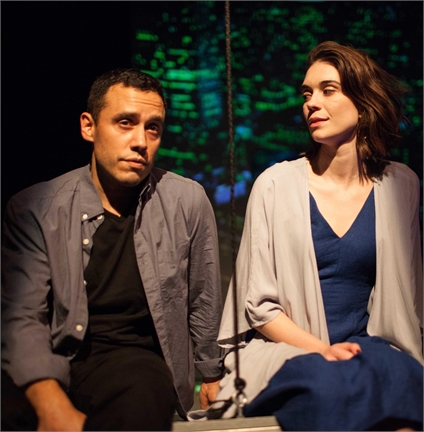 Circle X Theatre Co's world premiere of Liana and Ben, written by Susan Rubin and directed by Mark Bringleson at the Atwater Village Theatre tells creates a retelling of Faust.  In simple terms, Faust is a man who becomes bored with his scholarly life and sells his soul to the devil in exchange for endless knowledge and worldly possessions.  In Liana and Ben, Ben (Jonathan Medina) has grown frustrated with the world and makes a bargain with a kind, beautiful, lost in love woman named Liana (Kimberly Alexander). Ben gives Liana endless beauty and youth for all time in hopes that Liana can prove to Ben that there is good to humanity. Will Liana prove that there is beauty in the human spirit or will she use her seemingly lifetime of beauty for her own endless pleasure?
Liana appears to be in her 30's and a psychiatrist in love with a man named Michael (Tim Wright) and challenged by a patient named Alice (Mara Marini).  Everyone seems to be aware of her age, which is around 200 years by now and Liana is proud of all that her beauty has offered her from being painted into a beautiful portrait or dancing in the ballet.  However, Ben is growing more and more impatient with Liana's beauty and sexuality and wants her to make good on her bargain.  When Alice reveals that she is really Zeus' daughter Persephone and time has come for her to return to Hade's, Liana and Persephone travel to hell, quite literally where they meet up again with Michael and Ben.  Hade's (Darrell Larson) is more than excited for his wife, who happens to be his niece, to return and his costume design shows it.  While partying in hell Liana makes the ultimate sacrifice to save Persephone and ends up finding love and making good on her bargain at the same time.  Will Liana end up with Michael or Ben and will Persephone end up spending eternity with her uncle turned husband?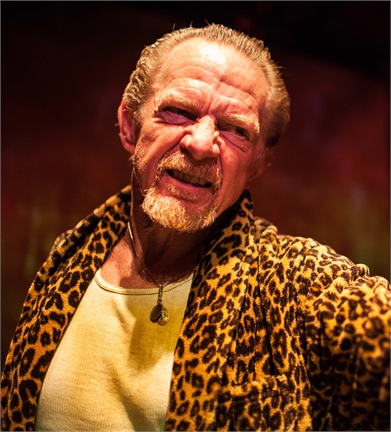 While the story itself felt slightly disjointed (who exactly IS Michael and where does Persephone and Hade's fit in with this Faustian tale?) there is some praise to be had on the stage. The lighting effects by Dan Weingarten, projection design by Jason H. Thompson and stage design by Alan E. Muraoka make the theatre experience all the worthwhile.  The set is a simple silver design with two seesaws in the center with a pully on one end serves as a platform for a psychiatrist couch, boat deck, and rooftop patio among other things.  A mirrored swing door accompanies the set design with audience seating on either side for a fully immersive experience.  Not only do the actors capably portray each of their characters but they change the set as needed whether they're floating in a dreamlike space atmosphere or the fiery depths of hell or even gazing at the whimsical floating ghost head of Jean-Paul Marat.  The audience can get lost in the simplistic yet wonderfully effective set design and projections as much as they might get lost following along with the story. Liana and Ben runs now through Saturday, March 26, at Atwater Village Theatre.
All photos by Tim Wright.
---
Posted By Rachel Flanagan on February 28, 2017
See the full review on Discover Hollywood by clicking Here