One Woman Gone Wrong – Theatre Review
A review by Rachel Flanagan.
One Woman Gone Wrong starts out as a one-woman play with Leslie Caveny sharing some of her most personal memories.  "I remember a house, yellow shingles, green shutters," she begins and as quick as she started her memories, she forgets her lines. At first, the audience isn't sure whether to cringe and feel sorry for her or laugh with her and make sure she knows it's okay and, yes, she can start again.  So she does, she starts back at the beginning and soon after forgets her line again. Again, the audience is a little unsure of how to act but at this point, it's a little less cringe-worthy and a little more comical.  Soon, the audience is let in on the joke when Leslie requests her lines from Anne, who pops out from the backstage.  It seems as though this is not just a one-woman show that has gone wrong but instead a whole life that has gone wrong in a hilariously appealing sort of way.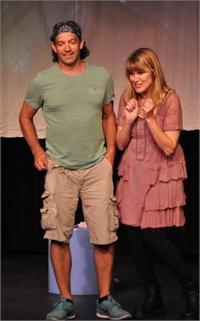 Emmy-winning TV comedy writer (NewsRadio, Mad About You, Everybody Loves Raymond) and feature film writer (Penelope), Leslie Caveny, plays a slightly fictionalized version of herself.  This version of herself has written a piece of work for the stage and after considering doing it as a play and a musical, she finally decided to just do a one-woman show or at least an almost one-woman show.  Caveny begins her one-woman play and ends up in an irritated meltdown before the audiences eyes with the help of a few inscrutable supporting cast members dispersed throughout the theatre contributing to the meltdown.  What starts as a personal memory plays ends up a personal performance with lewd stand-up about the conventions of theatre and show business, turning 50 and aging, her mother, and taking all of her anger and frustration out on those poor supporting cast members who are there to help her out.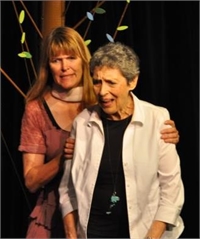 As the one-woman show kind of comes to a head and Caveny's friends reach out to the director for help, she walks off the stage. Don't worry though, in a graceful and heroic moment, she comes back out much more composed and put together and finishes out the night in a satisfying way.  Without revealing too much, you will laugh, you may cry, and you may even sing and dance because everyone should get to have their moment to sing on stage.  Nevertheless, you will enjoy every minute of this hilarious (almost) one-woman show turned trainwreck of One Woman Gone Wrong.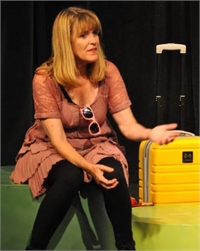 One Woman Gone Wrong, a comedy by Leslie Caveny
Sept 10, 11, 18, 25
Oct 2, 9, 16, 23, 30
Nov 6, 13, 20, 27
Theatre West
3333 Cahuenga Blvd West,
LA, CA, 90068
http://theatrewest.org/
Listen to interviews with the actors
https://youtu.be/GRsoeFDCm3Y
---
Posted By Rachel Flanagan on September 14, 2016
See the full review on Discover Hollywood by clicking Here