Rabbit Hole  – Theatre Review
By Rachel Flanagan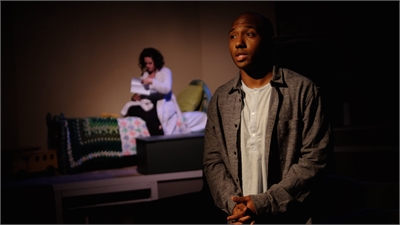 Rabbit Hole, directed by Eric Hunicutt, is David Lindsay-Abaire's Pulitzer-Prize winning play that tells a tale of a family struck by the emotional whirlwind of a tragedy. As they struggle to regain their footing, the world around them keeps spinning as life continues moving forward. As each person copes with the tragedy, Lindsay-Abaire's tale immerses you into a captivating story about trying to move on after an emotional loss.
It seems like just another day in suburbia as Becca folds the clothing of a young boy as she listens to her sister Izzy's story about her most recent bar fight. However, as a husband, wife, sister and mother interact, the pieces of a tragic puzzle slowly reveal themselves to the audience. Becca has lost her son and is struggling to find her purpose and how to move past the pain. Everything she looks at is a constant reminder of loss, so she's packing things up and donating the rest. Her husband Howie can't understand why she's erasing all the memories of their beloved son Danny. First, she stopped going to the support groups, and then she gave away their dog and now one of his cherished videos has been recorded over! As the married couple clash in their attempts to deal with their grief, life doesn't stop for a moment to let them figure it out.
As if Howie wanting to talk about having another child and Izzy being pregnant wasn't enough, Becca's mom is continually telling her how to deal with grief. After all, Nat lost her son tragically, a constant comparison that Becca cannot stand. How could her mother compare a grown man taking his own life to a young boy who chased his dog into the street? Becca would never have guessed that Jason, the teenager that was driving the car that hit Danny, would end up bringing the one idea that brings her comfort after all these months.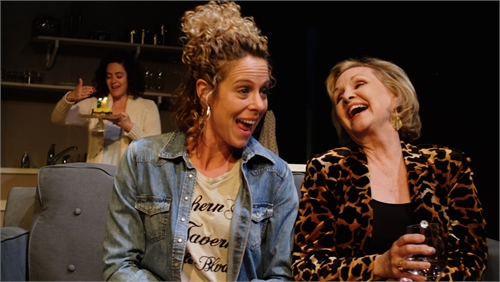 Rabbit Hole is not the story of a tragedy, but a story about life after a tragedy. Jordana Oberman provides an equal amount of grace and sorrow to Becca while Toni Christopher gives the much required an expertly timed comedic relief to Izzy. Michael Yurchak gives Howie a warm affection as he copes with the loss of his son. Darcy Shean gives Nat just enough annoyance to her mothering way to know that she really does care, like any good mother, while Rocky Collins does an exceptional job giving awkwardness and compassion to the teenage Jason. A relatable tale for anyone who has faced tragedy and struggled to find sense in a senseless act. The story will resonate with anyone who has had to find a reason to move on and face each day with the constant reminders of "what was" and "what could have been" nagging at them. With a touching story performed by a well put together the cast, Rabbit Hole is a gratifyingly heart-wrenching theater production that you will need to experience for yourself.

Rabbit Hole runs at the Lounge Theatre in Hollywood through May 14th. Performances are Fridays and Saturdays at 8pm and Sundays at 7pm. The running time is 2 hours and 30 minutes, including one intermission. Tickets cost $25 ($15 for students) and can be purchased. The Lounge Theatre 6201 Santa Monica Blvd. Hollywood, CA 90038.
---
Posted By Rachel Flanagan on April 26, 2017
See the full review on Discover Hollywood by clicking Here