Last night I came home to a wonderful Horror block on my doorstep!
You know the Joy!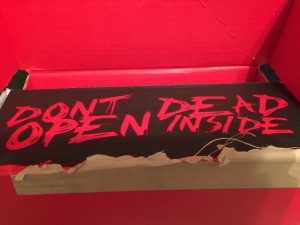 Read on to see my review of the goods inside!
Everyone knows the Horror Block, from the good folks who brought you the Nerd Block and many others… It contains a bunch of horror goods.  I haven't been very consistent with my horror block.  The first one I actually received about a year ago, and I was slightly disappointed with it because it was the Halloween block and I thought it would have much better stuff inside (It was a Pennywise shirt, which was awesome, but also these cheesy homemade looking shirt and a mask and just some stuff I wasn't interested in).  I only recently signed back up and the first couple blocks I got were kinda meh, but I actually was kind of happy with this one.  So, I chose it to begin my Horror Block "unboxing" review series.
Ripping open the box I peered in… cautious of the dead… har har har.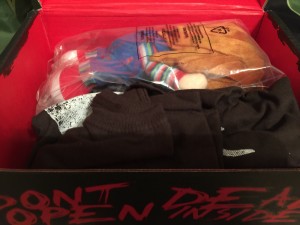 The first thing I noticed was a Chucky doll!  I think I may have squealed a little.  It's so cute, which is weird to say about a doll that was possessed by the spirit of a killer… I guess. However, it's an adorable little doll.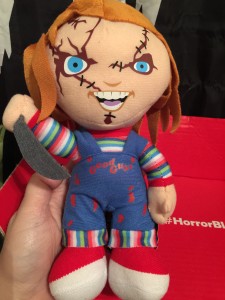 It appears as though this is an officially licensed Chucky doll from the Bride of Chucky era.  It came wrapped in plastic, but of course I ripped that out.  I have a semi – sad because I'm way too old to have this many stuffed animals – collection of stuffed animals and this will fit right in since most of them are from movies.   The only awkward thing is the hair, it's like partly sewn on cut fabric and you know, he's holding a felt knife, wouldn't do much real harm.  However, it's super adorable and might be my favorite thing from the block.
Next I picked up the t-shirt.  It's a Friday the 13th inspired Camp Crystal Lake/Jason Voorhees shirt.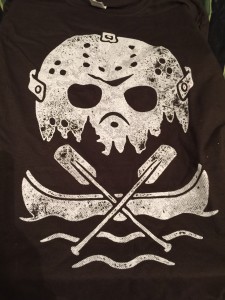 I actually really liked the design.  I enjoy how the trees of the camp blend down from the mask.  Also, I'm not sure if it was on purpose, but I like how the oars for the canoe are kind of stylized like hockey sticks would be in most Hockey inspired clothing.  It is a Detroit Red Wings goalie mask afterall.   I also like that the shirt is brown instead of black or white.  Frankly, I'm messy and white shirts get dirty too easily and I'm lazy and don't separate my clothes.  I turned a Baltimore t-shirt I own pink because I washed the white shirt with my red jeans… oops.  Black is a staple of course, but I have soooo many black shirts. It's nice to mix it up a little so I appreciate that this one is brown.  Actually, I'm wearing the shirt right now.  If I were into selfies, I'd take a picture…. but then I'd also have to take off my hoodie and it's kinda chilly (Finally!)
Next up I pulled out the movie selection – Dracula of course.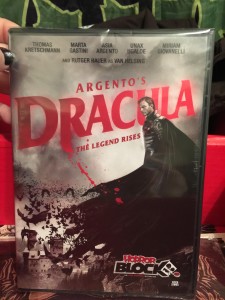 The movie looks like it's a 2012 Cannes Film Festival selection of Argento's Dracula the legend rises, which according to the IMDB, is also known as Dracula 3D.   The IMDB has it rated a 3.6 out of 10 and describes it as "Asia Argento stars in horror legend Dario Argento's sexy spin on the classic tale about the sharp-toothed count who craves human blood." I can't say this is something I'm dying to watch right now, but I'm sure I'll give it a chance at some point.
The next thing in the box is a Ouija Board mousepad… which my mouse is currently sitting on.   Something I've always appreciated about the Ouija Board is that the modern day version was originally created in my hometown of Baltimore, a place that has brought the world many wonderful things and a pretty great city.  I also appreciate that the board was invented by a lawyer, because of course a lawyer would come up with a talking spirit board!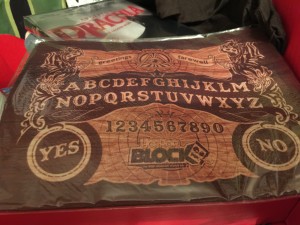 It's a nice design, a bit small and slightly flimsy but it works. Hopefully your mouse doesn't act as a planchette…. again with the har har har.   On to the Rue Morgue magazine…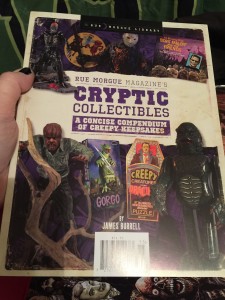 This is dedicated to Cryptic Collectibles.  I've only glanced through it a little and I haven't given it my full attention yet, but it's pretty cool.  It includes a bunch of old monster inspired collectibles, even the General Mills Cereal monsters.  They focus on different era's of collectibles up until the modern day Funko pop! stuff.   I think it will be a good read.   It is, according to the back, the 5th installment of Rue Morgue Magazines Rue Morgue Library series.
Lastly, Artwork!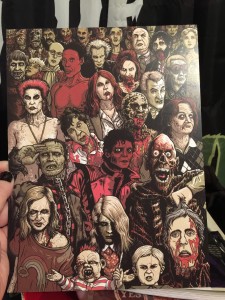 This is a piece from Gallery Guzu's "Something Spooky" art show. It is a piece by Paul Hanley with the horror genre's most notorious undead characters.  There is no protective coating or anything on the piece, but it is suitable for framing and without bothering to measure, seems about 8×10.   Dumbly I went to Target today and almost bought some laminating material until I realized I didn't have anything that immediately needed this… because I forgot about this piece already.   The most recognizable "undead" to me is obviously Michael Jackson in Thriller.  I dig it, it's definitely going to be hung up on my wall.
Finally, there is the little postcard that explains "What's in the Box!"
There is also a postcard giving you a hint for next months' box … An item from The Twilight Zone, Sharknado and Rue Morgue, of course.  Not excited about another Sharknado piece, I'll have to explain one day why I will never watch those movies (okay, it's easy – I don't like movies made to be a "cult classic" because Cult classics aren't made… they just happen).
and that my friends…. is the Horror Block.