I love horror movies. I love mystery boxes. I love getting surprise packages in the mail. If you love similar things, then you will love the Horror Pack!  The Horror Pack, which you can visit at horrorpack.com, is a monthly subscription box of 4 DVDs or 4 Blu-rays specifically curated for the horror junkie in us all.   I was provided the August 2016 Horror Pack for a review, which I was pretty impressed by and you can read the full review below!
Thanks to the United States Post Office my package took FOREVER to get to me because it went from Georgia to Los Angeles to Florida and then back to Los Angeles before it ended up at my door… Great job post office!  But finally… after much anticipation extended by the delay my Horror Pack arrived!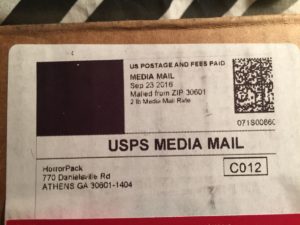 Before I open my package of horror goods, here's a rundown of the program:
As a former movie club subscriber and avid movie collector, this is a really great deal for either movie package.  Personal sidenote, I was a huge fan of going to Blockbuster to either rent or buy previously owned movies and random horror movies I had never even heard of but either sounded so ridiculous I had to watch it or just sounded good.  It was a great way to discover new movies and with the fall of Blockbuster and the decline of movie stores, this kinda takes me back to happier days!
I went ahead and ordered the Blu-Ray pack and again, I believe this pack is from August, so no spoilers if you're going to order the October pack!
The packaging is just a basic cardboard box and a basic white envelope with some bubble protection inside.  Nothing fancy but this is not an important quality for me to have in packaging.  I always figure part of your cost on some of the more expensive monthly subscription boxes is paying for the fancy box itself.   Included is a postcard about the pack, contains a nice code to get $3 off plus the cool little comic strip on how the subscription works.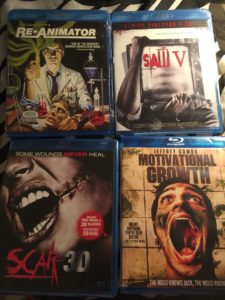 The movies received in the August Blu-Ray pack include Re-Animator, Saw V, Scar-3D and Motivational Growth.  I apologize for the lighting on my photo as my apartment is basically always dark at night even with all of the lights on… because I don't have many lights.
A great movie, a classic, and surprisingly not a movie that I already owned!  This looks like the "multi-format" edition Blu-Ray with a bunch of commentaries, documentaries, and interviews in addition to deleted and extended scenes.  For price comparison, you can buy this edition on Amazon Prime for $5.99 and I have also included a terribly lit photo of the back of the disc.    I love Re-Animator, so I was pretty stoked to get this one in the horror pack.  I would give this an A+.
So I'm kind of meh about Saw V.  I loved Saw and I liked Saw 2 and 3.  I have seen Saw IV and I've probably seen Saw V, but these were just huge disappointments and trying to continue a series that really should never have had these many sequels.  The killer is dead, the killer has been dead… stop beating a dead horse even if this is a horror film! I keep forgetting to dig through my movies and see whether I have this film or not, but even if I do it would have been on DVD, so I guess it's nice to have the Blu-Ray version. This is the 2 Disc-Directors cut, which is basically the highest quality Blu-Ray release of this film.  I just wish I liked this series more because I would be more excited.  This edition is $9.69 on Amazon Prime. I mean this would be an A+ if I liked the series still.
Again, I apologize for the poor lighting. This is a movie I have not heard about it and it sounds interesting.  Small town murders and years later is the victim of the original crime the one committing the murders now? Dun Dun Dun.  The 3-D aspect is whatever but it is nice it comes with two pairs of glasses.   I'm not upset about it and I'll probably see how the 3-D is at least once.  Definitely an interesting choice. On Amazon Prime, this edition is $5.99. A for effort because the movie definitely seems interesting and I don't think I'll be upset I now own it.
Yep…still apologizing for the poor lighting. Another movie I have not heard of but it sounds hilarious and wonderful and I'm super excited to watch this when I have a free minute and I hope it is as hilariously bad as it sounds.  This gets an A+ just for being included.   Really bad, ridiculous, hilarious horror movies are some of my favorites just because they are so fun to watch.   I was beginning to wonder if there was a connection between the movies and the mold is voiced by Jeffrey Combs from Re-Animator so I think I see the connection now!  This film edition is $14.95 on Amazon Prime.
If we do the Amazon Prime math, $5.99 plus $9.69 plus $5.99 plus $14.95, these four movies would cost you $36.62 on Amazon Prime, so with the $24.99 package deal, this is almost a $12 savings.   I like to know that I'm getting a deal and not that I could find this cheaper somewhere else, so a $12 savings is pretty cool.
I'm pretty impressed with the Horror Pack.  My biggest worry in subscribing is two things – Where in the world am I going to put all of these movies and What if I already own the movie?  In the Terms of Service, they do specify that they do not take returns unless the product is defective, which is pretty common.  In the world of Apps and Craigslist and Social Media, I can't imagine it would be hard to get rid of a movie you already owned (or really hated) and Horror Pack claims to be open to suggestions and I am sure they are as us Horror folks are pretty great people!
In conclusion, I'm really glad I was able to receive a horror pack and I can't say I am not tempted to subscribe!  The October Horror Pack closes on October 15th but it is almost gone already!  Don't hesitate to subscribe if you're interested and you can cancel anytime.
Like their Facebook page for offer codes and giveaways.
Go to HorrorPack.com to Subscribe