A friend of mine from way back when told me about a new subscription box called Killer Crafts.  Aside from the fact that I really want to write Killer Krafts every time… I was intrigued.  Killer Crafts is a subscription box of homemade crafted goods dedicated to Horror!  In each box you will receive 3-6 hand crafted horror themed items. Now, I not only love boxes of surprises but I also love horror and October's theme was A Nightmare on Elm Street, my favorite horror flick of all time!  It was like kismet, just meant to be.  Where do I sign up?!
Now, Killer Crafts is a subscription through Crate Joy .  Crate Joy is a subscription marketplace where you can find any subscription that "fits your lifestyle".  You can probably search for a number of things you would be interested in receiving in the mail and find it on Crate Joy. Additionally, if you have a great idea for a subscription box, you can use this site to create your page and start taking subscriptions.  They have a 4-part email series you can sign up and receive for free on how to get started with your own subscription box idea!
Katie Tucker, the powerful mind behind Killer Crafts, started her subscription box in September 2015 with the perfect Horror franchise for the season, Halloween.  You can find her YouTube review of her subscription box actually showing aof the products found in her first box ever. There are other unboxing reviews located on her Killer Crafts page.  After watching her review, I decided to give it a shot and get the Nightmare on Elm Street Box.
When signing up for the box you are asked to specify whether you are a male or a female and what size shirt you wear.  Since I'm weird, I emailed Katie and asked her whether the shirts were unisex or whether they were gender based (because I wear a different size depending and I wanted to make sure I wouldn't end up with a shirt that I can't actually wear!) and she was super fast in getting back to me and letting me know that the shirts are unisex, even though my box wouldn't contain a shirt.  Still a good fact to know for the future
The cutoff for the box subscription is on the 27th (or 28th) of the month it seems.  On October 30th, I received an email letting me know that my package was on the way and had been shipped, complete with a link to check the status of my shipment.  On November 2nd, the box was waiting on my doorstep!  Pretty good turn around!
Enough chit chat – What's in the box!?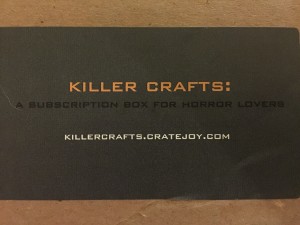 I was so excited to get the box that I didn't take any pictures! This was quite dumb of me because Katie packages her items in the box so well!  It's like getting a box of little Christmas or Birthday gifts from your grandmother! Not only is there tissue paper in the box but each item is individually wrapped in tissue paper, ribbon and bubble wrap and the colors are nicely themed with the horror franchise!
So here is kind of the after math of my box – again it's a little like Christmas morning!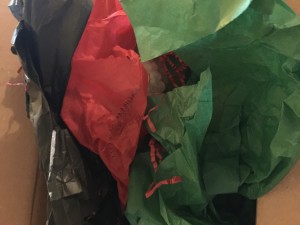 One minor note I will point out is that Katie uses paint and a top coat on her canvases.  When I opened the box, because my sense of smell is insane and I suffer from a lot of fragrance allergies, all I smelled was the top coat.  It kind of reminded me of being in my dads garage as a kid, so I guess it wasn't all that bad. My allergies were on high though so it definitely took me a second to get past the smell. The scent has faded already and will continue to fade I'm sure so don't let this be a deterrent!  I'm just pointing it out because I'm ridiculous about smells. (If you ever come over to me wearing horrible smelling perfume/cologne, I will send you away immediately and not let you anywhere near me.  I'm not kidding).
More Positives!  The GOODS!
The first thing I ripped open was a round circle.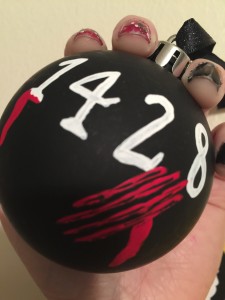 It's a black ornament ball with "1428" and and some blood painted on it!  I always appreciate the joy of 1428. Nancy's house -1428 Elm Street. (Shameless self promotion: I made this design, a "jersey style" Krueger shirt with his name and 1428, because of course that's the number he would choose on his jersey! View it (Buy it) here!) .  I immediately thumbtacked it to my wall, simply because I have 3 cats and I could just see it being broken easily if I left it anywhere they could get to it!
More shameless self promotion: I made this wreath, I'm contemplating adding this as a permanent fixture to the wreath as I'm pretty sure this will remain on my door year round.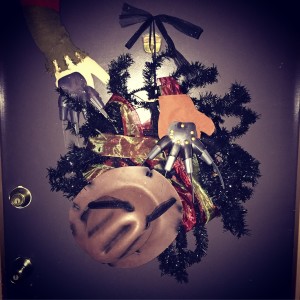 I don't quite remember the order that I picked out the rest of the goodies… but here goes:
A portrait of Freddy Krueger Canvas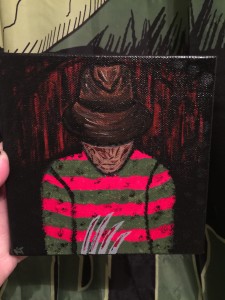 Generally speaking, I am one of those people who walks around looking at crafts thinking "Why would I buy that, I can just make it myself".  It's true, I probably could.  The fact is I rarely ever do!  So while part of my brain thought "Well, I could paint these pictures myself!", Katie is a top rated seller on Etsy and is known for her canvas paintings.  Her paintings are a sure sign that this is something she is great at!
Freddy is not an easy character to paint, especially with a face like that. This painting is very well done though and painted at a cool angle.  You know it's Freddy as he has his hat, the burned up face, the ugly Christmas sweater and the knives on his hand!  I particularly like the detail of the "dirt" effect on his sweater and that there is some bits of a background so that it is not just black.  This painting is stellar!
A Nightmare on Elm Street Logo Canvas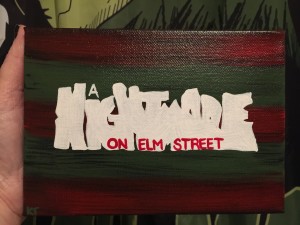 This one is pretty cool too.  It's the standard Nightmare logo with the red and green background. I've always loved that Wes Craven chose Red and Green as Freddy's colors because they are the two most clashing colors to the human eye… But Freddy Lovers (or Christmas lovers) adore these colors!
Elm Street Street Sign Canvas with Blood.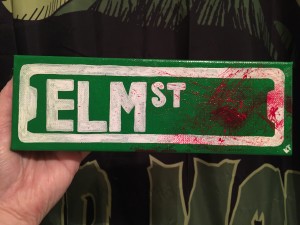 This one was actually by far my favorite piece and I am not even sure why.  While the Nightmare first occurs on Elm Street, it would never cross my mind to think to paint a bloody Elm Street sign!   The colors are so nicely matched to real street signs and I just adore the blood effect on it.  It's a super unique piece.
All of the canvases will be going on my walls at some point in the near future!
Conclusion:  Killer Crafts has some really neat unique hand made items.  Katie is an exceptional painter and will provide you a box of items that are often hand painted horror goodies. If you are a fan of Horror Movies, you should definitely check out the box.
I can't say I'll be ordering a box every month only because, while I'm a horror fan I'm not necessarily a fan of all of the horror franchises! Katie puts up the Horror franchise theme for the next couple months in advance so if you don't end up going with a monthly box of goods, you can pick and choose your favorite horror movies to order boxes for each month like I plan to do!
Here are the upcoming themes (asterisks by the ones I plan to indulge in!)
November = Friday the 13th
December = Scream
January = Trick 'r Treat *
February = Child's Play *
March = Stephen King's IT *
So if you're into homemade crafts and horror, order a Killer Crafts subscription box immediately!
Sign up for a Killer Crafts subscription box HERE.
Disclaimer: I apologize for the excessive overuse of exclamation points.  I do that sometimes.  Also, I purchased this box and made a review of my own free will and all thoughts reflect my honest opinion or some junk.