As anyone who knows me is probably aware I have 3 cats. So a few months ago I subscribed to the Kitnip Box.  There are plenty of cat boxes out there but I chose the Kitnip box because I liked that they had multiple options for a single cat vs one cat and had the options for treats vs no treats.
I have one 13 year old cat who has arthritis and isn't really all that interested in toys anymore.  He likes food and being left alone mostly. The other two, my three and one year old, love the kitnip box!  However, they rarely like the treats and I've found that now after about 3 or 4 consecutive boxes – they have so many toys that I will probably be unsubscribing for a couple months until they need some new toys again.
However, I wanted to try and write up a little review about the boxes from my perspective rather than my cats, because they're just like "oh a box" "oh a toy" "I love you mom!" "lets play!"
Now it's exceptionally hard to get any decent photos because my cats are all over the place but see below for my Kitnip Box Review!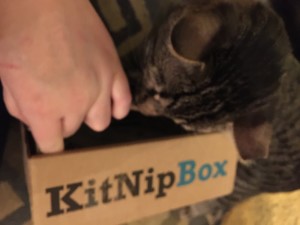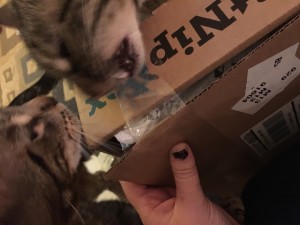 My cats get super excited whenever I get the box that I can hardly get the box open without them trying to tear into it themselves… as you can see.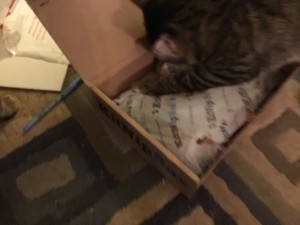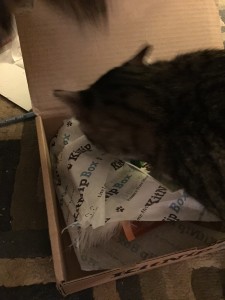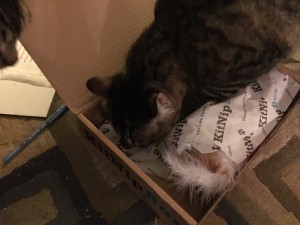 Inside each nicely wrapped box are a plethora of joys for playful little kitties.  In the top of the box there is a postcard that usually has a picture with the theme and a description of everything inside the box – not unlike other surprise goodie boxes for humans and animals alike.  The themes seem to be related to states right now as I know a previous box was Texas and this one seems to be Colorado.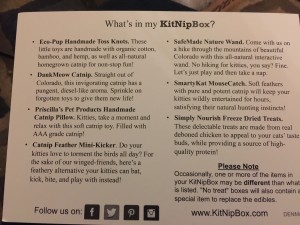 There are usually about 5-6 toys and a treat (if you don't get the treats then you'll get an extra toy in its place)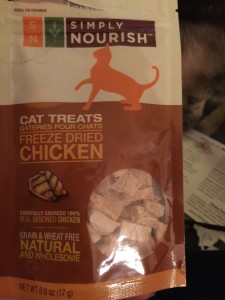 I don't know why I signed up for the treats.  My cats are all extremely picky about the food that they will eat and with three – finding the right food for all of them is next to impossible sometimes.  The other thing is that the treats are always "healthy" cat treats.  My cats don't seem to be into the healthy stuff.  I'm telling you, I'll get them healthy dry food but I have to mix it with some less than healthy dry food in order for them to eat it.  Healthy treats are a no go but I try, every time, to make them eat it.  This stuff, one and a half out of three of them actually liked!  Tiggs was a big fan.  Stanley has tried some of it, mostly after he realized that Tiggs liked it cause he's that little brother that wants to be like his big brother.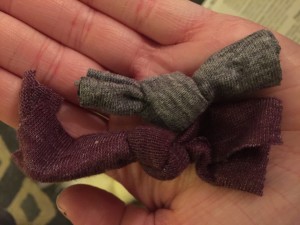 Now these are the handmade toss knots.  There are actually three of them but I had tried tossing them at my kitties for them to play and inevitably lost one under the couch. These are basically little pieces of fabric knotted up.  My cats like things that they can toss around the floor and will occasionally play fetch, neither of which these really worked for – so I'm not sure how much my cats are going to play with these.  But they're a cute little concept and something that any cat owner could easily make themselves with some extra fabric.  I was thinking of untying them actually and stuffing some catnip in them as the box came with some nip, which I forgot to grab a picture of before I stuffed the nip in the container with the other nip I have. It says they're stuffed with nip but maybe it needs to be stronger for my boys.  ha ha.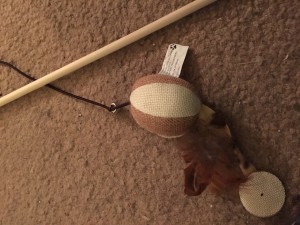 This one is the Nature Wand.  Now Stanley in particular is a big fan of wands.  So He definitely got a kick out of this one for a good while.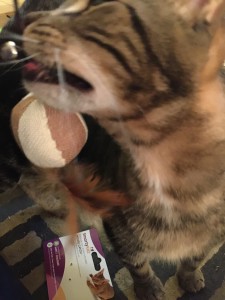 Tiggs got a little bit of time with it too.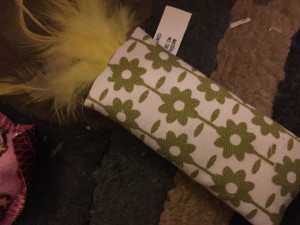 This one is the little mini kicker. Sadly they didn't pay this one a lot of attention. They do enjoy the little feathers and toys they can kick around but I think this one was a little too small for them.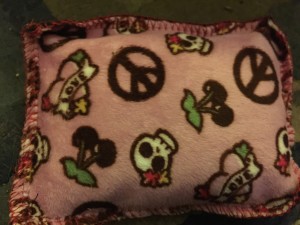 Catnip pillow.  If I had girl cats I'd be a little more into this because the fabric is adorable, heck I'd like a blanket or something out of it for myself.  My cats are huge catnip fans so Tiggs and Stanley really enjoyed this one.  They haven't played with it much unless I add more catnip too it.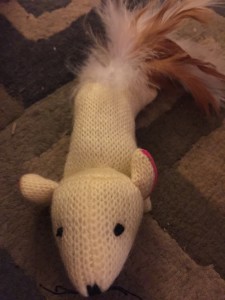 This one is the mouse catch.  This one they did enjoy because there was a little more to it to kick around.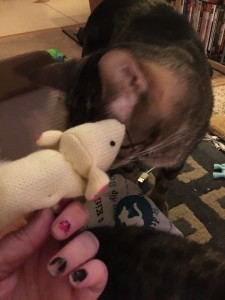 Funny thing was when I tried to force it on them they're just like "whats in the box whats in the box!"  However, they did like it.

Like I said, this is probably the 3rd of 4th kitnip box that they've gotten.  I really like the boxes and it's great to get a treat for your cats.  However, I would not recommend getting the monthly subscription every single month.  Each box contains a different set of toys but they're actually all about the same type of toys.  Some catnip toys, catnip pillows, feather toys, etc etc.  Cats are also pretty easy to please, you give them a box or you give them a plastic bag or milk cap and they'll have a ball.  One of Reggie Cats favorite toys when he was a kitten was coin rollers, which you can pick up at a dollar store.  Easy and cheap to please. That's not to say you shouldn't subscribe to the box because it's actually really adorable to see how excited they get when you have a box of goodies for them! The thing is, do you really need this every month of the year?  Probably not.  I'd say every few months give them a treat… and the other months give yourself a treat 🙂