On Friday I ditched work and spent some time cuddling with my kitties, took a quick trip to Target and also started fixing up my room – starting with mounting my TV on the wall since I've had the wall mount for something like two years. Today, I've continued my venture in fixing up the living room.  In general, I just have so much stuff and not much organization of said stuff.  I have the space for it, just not all the organization techniques and items to organize it.  For instance, I have a TON of DVD's and Blu-Ray and while I know its super space saving to get rid of the cases and put them in DVD binders, the idea of getting rid of the cases kind of makes me sad.
One of the major things I lack is frames for all of the artwork that I have, both my own art and bought art. I love the idea of creating a "gallery wall" but I'm trying to come up with the cheap option to do it because frames are expensive.  However, as I was digging through my closet, I remembered I have artwork framed and just not hung up.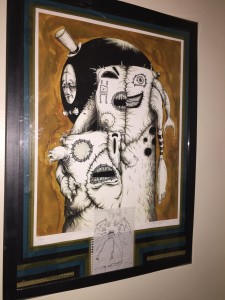 This is a piece from one of my favorite artists Alex Pardee.  Included is a custom drawing and autograph I got when I saw him at an art show a few years back.
As I was hanging up the piece, I remembered that a former friend of mine had bought it.  The funny thing is, at the time I lived with a long time friend and a fairly new friend who would become a long time friend and the source of much heartache… but that's a story for another time. This friend bought this piece because she thought it was similar to us – the Three musketeers. We were all kind of attached.  I mean, two of us were always together but often we went out in a three piece.  That is until it fell apart.   I'm not even friends with the person who gave me the piece anymore for reasons I apparently didn't deserve to know.
I just found it funny that I never hung the piece up when I had the other two musketeers in my life nor did I hang it up when the friend who gave me the piece was actually my friend   Here I am, probably 5 years later and something like 2 and a half years since any of them have been in my life, finally hanging it up.
Frankly, I love the piece because I love the artist. It also sorta goes with the oddball/horror theme I have going on on that side of my living room wall. It just got me wondering about the symbolism behind the piece and how it took me so long to put the piece up. I doubt it means anything…