Stopping By – Theatre Review
A review by Rachel Flanagan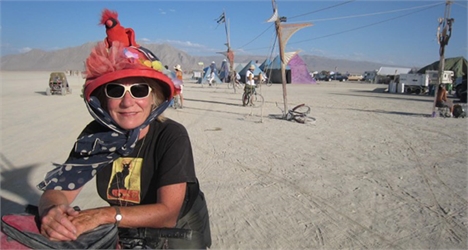 Barbara Tarbuck. Photos by Brian Drillinger
Christine and Charley were a loving married older couple with an adult son and a generally normal life.  That is until one morning when they were making love and Charley suddenly could not see clearly anymore. It was not because the lovemaking was so extraordinary that Charley was seeing Picasso artwork, but instead that he was having a stroke. This was only the beginning of a new life adventure for Christine.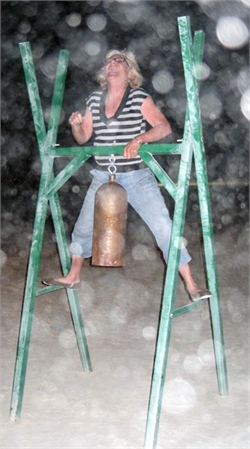 Stopping By, written and performed by Barbara Tarbuck is the story of Christine's adventures from Charley's bedside to Charley' passing and then to the ultimate gathering of dreamers and doers: Burning Man. The story unfolds in a series of painful flashbacks, loving memories and present day experiences all connecting to the day that Christine arrives as a virgin to Burning Man. As Christine is overwhelmed with talk about what to do with Charley when his insurance runs out or when his untimely passing eventually happens, she decides to go on an impromptu trip to spread her deceased husband's ashes and the metropolis of artists. With her mentally impaired brother, her sons' girlfriend behind the wheel and Charley's ashes at her feet, they journey to Burning Man.  She was not prepared for the wide-open space, excruciating heat and violent dust storms or the thousands of people all on their own uninhibited adventures but once she is there, she knows this is the perfect place to say goodbye to Charley and start her life again.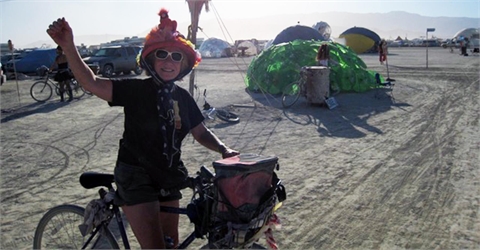 This one person performance is almost like an over enthusiastic book reading with Barbara acting out certain parts of the story and changing her voices to sound like each new character she encounters.  Through her expressive storytelling, Barbara is able to take the audience on this ride as Christine experiences it, through her memories as she remembers them and leaves them feeling the same awe and joy that she experiences in this metropolis created seemingly overnight by thousands of people who just want their chance to be a part of Burning Man history.
Stopping By written and performed by Barbara Tarbuck at the Echo Theater Company Wednesdays through April 13, 2016 at 8pm.
The Echo Theatre Company
3269 Casitas Avenue
Los Angeles, CA 90039
echotheatercompany.com
---
Posted By Rachel Flanagan on March 28, 2016
See the full review on Discover Hollywood by clicking Here.