Swarm Cell – Theatre Review
A review by Rachel Flanagan.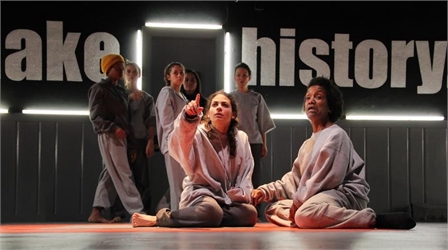 Maritxell Carrero (Tomasina), Diana Elizabeth Jordan (Ma Joad), &     Ensemble/Cast    Photographer: Marjorie LeWit
Greenway Court Theatre presents the world premiere of Swarm Cell that poses the question, "Are you a queen bee or just another worker bee?" Written by Gabriel Rivas Gomez with contributions from students of Fairfax high school, Swarm Cell is about a pair of homeless women living somewhere not very far away sometime in the future, who form an unlikely bond.  The production is inspired by John Steinbeck's classic American novel, The Grapes of Wrath and features an all-female cast.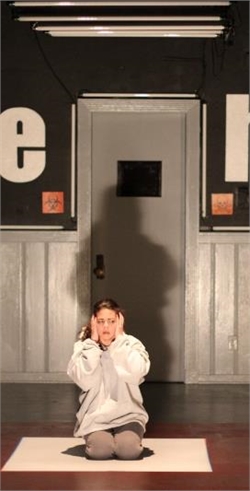 While The Grapes of Wrath  is set during the great depression and features Tom Joad, Swarm Cellis set in the not too distant future in a place not too far away from here and features an unlikely duo. Tomasina, an undocumented and pregnant homeless woman, finds companionship in that of K.C., a deaf girl.  Together they find work in a questionable warehouse run by the mythical machine who cares not about the workers but about the customers who receive the gifts bestowed upon them thanks to workers.  Each worker is also an immigrant and there for themselves and lives to satisfy their own needs but are they nothing more than simple worker bees?  Maybe if they come together and create a hive, with the queen bee to guide them, they can come out on the other side.
(left Maritxell Carrero (Tomasina)
Swarm Cell brings to light a similar theme that The Grapes of Wrath brought to life, between the rich and the poor, the black and the white, the indigenous and the immigrant, they are all looking for answers and maybe the answer is found within each other. If everyone is struggling alone, then there are many individuals' struggles to contend with but if everyone sticks together, regardless of your class, race, ethnicity or social standing, maybe those struggles will not seem as daunting when everyone works together.  Swarm Cell brings the confusion and difficulty in communicating when everyone is speaking a different language and everyone is only thinking of themselves.  Perhaps this will challenge the audience to listen and look outside of oneself to see that everyone can work together and take down the walls that separate us.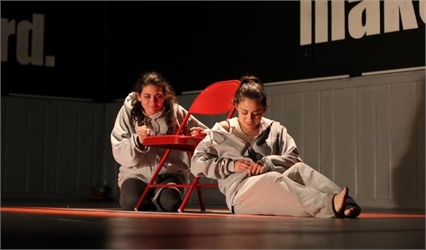 – LR:  Maritxell Carrero (Tomasina), Raquel McPeek (K.C.)
Swarm Cell will be at the Greenway Court Theater from January 30 – February 28, 2016.  Regular showtime's are 8 p.m. Fridays and 7 p.m. Saturday.
Greenway Court Theater
544 N. Fairfax Avenue
Los Angeles, CA 90036
www.greenwaycourttheatre.org.
---
Posted By Rachel Flanagan on February 02, 2016
See the full review on Discover Hollywood Here.