The King and I – Theatre Review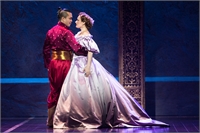 The multi-Tony-winning musical, The King and I, by Rogers and Hammerstein, dances its way into the heart of theatre goers at the Pantages Theatre this winter season.  Laura Michelle Kelly and Jose Llana star in the fourth revival of the Broadway musical since its 1951 debut.  When this musical premiered 65 years ago, it was bold and audacious as it tackled major topics like slavery, sexism, feminism, racism, and anti-intellectualism but some of those topics still strike a chord today.  This production is just as spectacular today as it was back then and you would be remiss to skip it.
Based on a true story, The King and I, tells the story of Anna Leonowens, a widowed British schoolteacher who arrives in 1860s Bangkok to be a personal tutor to the King of Siam's children.  Anna and the King come from different worlds as the King practices sexism and slavery and has multiple wives who must submit to him and his needs. Anna, on the other hand, is a strong woman who believes in treating everyone fairly, especially women, and she wants nothing more than to teach the King's children, take care of her son, and live outside of the palace as the King promised. Teaching subtle lessons of girl-power and modesty to the wives and the men in the King's life, Kelly plays Anna in a powerful way with a mix of beauty, grace, and stone cold reality. A woman alone in a new country that does not always treat women kindly, she puts on a brave face for her young son and reminds herself to face her fear by simply "Whistling a happy tune."
Jose Llana portrayed the title role in its most recent Broadway run, and he gracefully embodies the powerful King.  The cast, including many young children portraying the King's offspring, does an amazing job with each of the dance numbers and singing along to all of the classic songs such as "Shall We Dance," "I Have Dreamed," and "Getting to Know You."
The performances are so dazzling that the audience can sit back and enjoy every bit of the show from beginning to end with a sense of longing that maybe, just maybe, the King and Anna will see that, while they are so different, the love that they have for one another is pure and they've taught each other some valuable lessons that will stick with them for all time.
"The Small House of Uncle Thomas" takes a break from the doomed love story of Anna and the King and focuses on a smaller, yet still doomed, love story between Tuptim, a recent bride of the King and the love of her life Lun Tha. A beautiful ballet with brilliant costumes, choreography and a performance that will stick with you after the show is over.   Even with the hopeless love stories that are bound to end in tragedy, The King and I finds a way to convey an entire love story from beginning to end in one single gesture. So take a break from the everyday monotony and sit back and enjoy a love story that never will be but will most certainly leave you whistling your own happy tune on your way back home.
Dates:                                     NOW THROUGH JANUARY 21, 2017
Theatre:                                  HOLLYWOOD PANTAGES THEATRE
6233 Hollywood Blvd, Los Angeles, CA 90028
Performance Schedule:        Tuesday – Friday at 8pm
Saturday at 2pm & 8pm
Sunday at 1pm & 6:30pm
Tickets:                                  Online:              HollywoodPantages.com  or  Ticketmaster.com
Phone:             866-755-2929 (Mon-Fri; 9:30am – 5:30pm)
Box Office:      Opens Daily at 10am; 6233 Hollywood Boulevard
---
Posted By Rachel Flanagan on December 21, 2016
See the full review on Discover Hollywood by clicking Here