It is not very often that I pay attention to Facebook ads and it is even rarer that I actually click on one.   For whatever reason, when I saw an ad for The Pill Club I was inspired enough to pay attention and open it.
The Pill Club, according to their website, consists of medical professionals, women's rights activists and engineers who want to make birth control easy for women.  In short, you give them your insurance and prescription information and each month, they'll ship you up to 3 months supply of birth control in a nice package with some free samples.  If you live in the state of California are over the age of 16 and you do NOT have a current birth control prescription, The Pill Club will write you a new prescription just by filling out a simple questionnaire.   This prescription is no cost if you have insurance and if you do not, it would cost you a one-time $15 fee.
Without going into a medical insurance rant, my last prescription ran out when I lost a job/insurance. The next insurance I had was awful and I couldn't even afford to go to the doctor. Now, I have regular decent insurance again but my previous doctor doesn't accept my new insurance and I just had not yet made the effort to go find a new doctor.  So I figured, what the heck! I'll try it out.  I am a California resident well over the age of 16, so I signed up and filled out my survey.
I do not remember exactly what kinds of questions they ask you on the survey, but it was mostly medical related and pretty standard questions.  They even give you the option of pills, the ring, or the patch and regular, seasonal or continuous use. So, if you don't have an IUD and don't take the shot (does anyone even do that anymore?) then you're free to get whatever kind of Birth Control you would like.   Personally, I went for the standard pill and asked for continuous use.  I've taken all sorts of different kinds of pills (for years my lady doctor gave me free samples of birth control pills so I never even had to bother with prescriptions when I was younger) so I didn't have any personal preferences for brands I wanted or didn't want, but you can be specific if you want.
If you're not in California and/or have a prescription already, all you have to do is join and tell them where your prescription is (or have your doctor fax or e-subscribe a prescription to them).
You also have to provide your insurance information and credit card information if you are using their pay prescribing service or you have a co-pay for the pills.  Now, I never supplied my credit card information, I figured if I needed to pay anything they would tell me.
So I texted over a copy of my insurance information on Wednesday, April 12th.  This was essentially immediately after I filled out the survey.  It was around 3 pm Pacific time.   Instantly I received a "welcome" text reply and a link to activate my account.   Once I activated an account, I received another text welcoming me, giving me their hours (M-F 9 am – 5 pm Pacific) and telling me they'll be back to me with updates via text within 3-5 days for my prescription request and 3-5 days for delivery.
On Thursday, April 13th, I received another text from "Andrew" (I use quotes because I've worked in places like this before, sometimes they just give a name but it could be anyone.  There may have been an Andrew, there may still be an Andrew.  Andrew may never have existed.  But I guess, you can save the number in your phone as "Andrew" rather than "The Pill Club") saying that they'll be forwarding my profile to the nurse practitioner, sent me some helpful info about birth control and welcoming me to the club leaving the text line open for questions.
On Tuesday, April 18th, I received a text informing me that they wrote my prescription. Told me it was the equivalent of a name brand (so I assumed a generic version of a name brand) confirmed my shipping address and asked me to text back confirming that I received the message and that they can mail out the prescription.  I said, "Confirmed!"
At this point, it was less than a week since I filled out the survey and applied and was already approved for birth control!  The following day, Wednesday, April 19th, I received a text telling me that the prescription was being mailed out and received tracking info.  Immediately after, I received another text asking if they'd like me to include emergency contraception in the next delivery.  If I have insurance, it would likely be covered, if I did not, it would be a $15 charge.  I said no, I'm not a big fan of that personally, but it's really nice that it's so easily available for someone who needs it.  On Friday, April 21st, the package arrived at my home.
On Friday, April 21st, the package arrived at my home.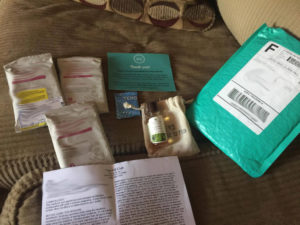 I did not take a great photo and I blurred all the pertinent info out.  But this cute Teal package included 3 continuous use pills, information about my prescription – a little thank you note and two samples. One was TCHO Chocolate.  Unfortunately, it was completely melted.  I threw it in my freezer and ate it the next day – it was pretty decent.  Note to the Pill Club though – Chocolate and California probably don't go well together… heck, let's just stay away from Chocolate unless it's winter!  I also received Soapberry soap and… well… a soapberry.  I haven't used it yet, but it smells like peppermint and sounds interesting (The berry, once warmed up, can be used as soap as well.)
I did have one question, which I texted.  Of course, it was after 5 pm so I received an automated response.   The following Monday, I received a response that I could text anytime between the 9 – 5 hours, so I copied my question from Friday.  I received a message that I was referred to the pharmacy within 1 minute and an answer within 5 minutes.   I thanked them and today received the "You're welcome" text.
All in all, I haven't paid a thing and I have 3 months of birth control that was delivered within a week and a half after getting a prescription with no doctors visits.  Definitely a good deal whether you have insurance or not – especially if you live in California, where you can easily get a prescription without the hassle of a doctor.  Their website is clear and informative and their customer service, although basically limited to text and specific hours, are super helpful.
I'm a fan.