The Story of Alice – Theatre Review
A review by Rachel Flanagan.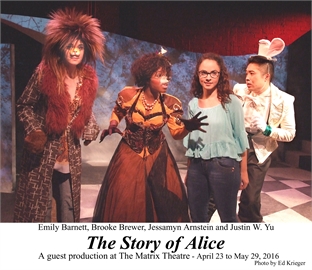 The Dutches Theatre's world premiere of The Story of Alice takes the classic tale of Alice in Wonderland in a completely new, and just as nonsensical, twisted direction. The audience meets a modern day dark-haired Alice (Jessamyn Arnstein), who longs to be cool like her older sister Simone (Emily Barnett) but carries so much innocence with her.  That is, until she follows the White Rabbit (Justin W. Yu) down the rabbit hole.  All she wanted was to return his umbrella, but instead she found a completely new wonderland filled with the classic characters, new songs and a modern twist of the tale of woodland creatures, a tyrant queen, a tart stealing knave and self-indulgent Havalots.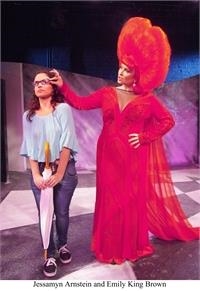 The Story of Alice begins with a performance reminiscent of the renaissance faire by the Cheshire cat, (Santino Tomasetti), who acts as both narrator and trickster throughout the story.  A bored and restless juvenile Alice follows a rushing white rabbit (who really gets into his character with every hop and twitch he makes) into a strange and slightly scary place where she meets woodland creatures the Mock Turtle (Jolie Adamson), Weasel (Brooke Brewer), and Dodo (Nikki D'Amico) among other. The woodland creatures first think she's yet another self-indulgent Havalot but soon realize that maybe she is something more. As the Cheshire cat seduces her into drinking some dream potion, she soon finds herself into a darker world with the Queen of Hearts who wants nothing more than to find the tart stealing knave and be off with his head. Along the way, she interacts with Dee and Dum, meets the Duchess who enjoys pepper, and a Mad Hatter having a tea party.  The girl that Alice was when she started her day is certainly not the girl she becomes by the end of her visit in wonderland and her sister can certainly see the growth that Alice made, but was it all just a dream?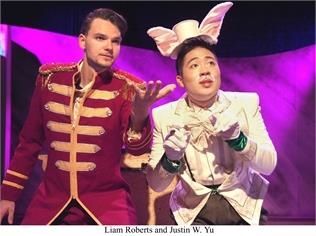 The comically talented cast, directed by Gary Lee Reed, dance and sing among clever scenery created with video projections, a multi-use wooden trunk, and moveable set pieces that act as forest foliage and seating as needed.  Costumes designed by Mylette Nora are perhaps the best contribution to The Story of Alice with colorful and imaginative costumes for each character. Costume highlights include the Commander having two cardboard soldiers to expand the Queen of hearts gaggle and adding a comedic thrill as well as the Queen's beautiful red dress and enormous hair reminiscent of Tim Burton's own Queen of Heart costume in his 2010 adaption of Alice in Wonderland. Michael Cormier and Scott Hiltzik provide new music and lyrics to accompany Alice as she makes her way through wonderland with fun songs and dance that help move the story along as a live band provides the music and sound throughout the performance.   You may not leave the show craving Bananas & Cabbage, but you will definitely be singing that song in your head as you drive home.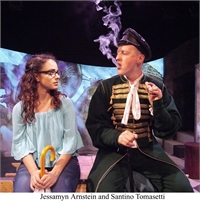 Note: There is smoking and a bit of language, but otherwise child friendly and the cast may interact with your children if you sit toward the front.
MATRIX THEATRE
7657 Melrose Avenue
Los Angeles, CA  90046
Sat, Apr 23 – Sun, May 29
Friday and Saturday at 8pm
Sunday at 3pm
www.plays411.com/alice
---
Posted By Rachel Flanagan on April 27, 2016
See the full review on Discover Hollywood by clicking Here