The Unauthorized Musical Parody of Troop Beverly Hills – Review
A review by Rachel Flanagan.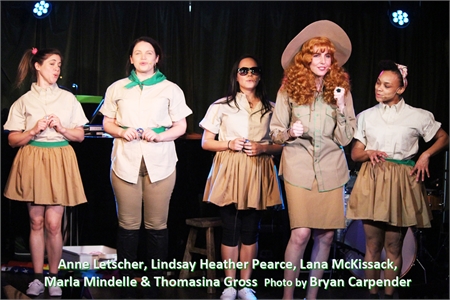 This summer at the Rockwell Table & Stage, audiences can catch a dinner and a hilarious show with The Unauthorized Musical Parody of Troop Beverly Hills.  The Rockwell Table & Stage is a small intimate dining area and bar where you may get seated with strangers and you may not be facing the stage but no worries, by the end of the night you'll have seen everything and laughed together with the new friends you made at your table!  Written by Kate Pazakis & Ray Wetmore and Directed by Tye Blue, audiences are in for two hours of almost nonstop laughter, musical numbers and maybe some Wilderness Girls cookies!
Troop Beverly Hills is the story of a recently separated housewife in Beverly Hills, Phyllis Nefler, who is trying to find a new purpose in her life.  Together, with her teenage daughter, Phyllis forms a group of misfit girls into the best Wilderness Girls of Beverly Hills that anyone has ever seen.  At least, that is what she is shooting for but the head of the regional Wilderness girls, Velda Plendor, has other plans for the Beverly Hills troop.  In the unauthorized musical parody, a talented cast of characters sing their way through each scene with a collection of amazing 80's hit and a few more recent musical numbers as well as a fun story line that pokes fun at the original with a few modern day twists.  This is not a show that stays on stage but turns up in every corner around the entire venue so everyone gets a chance to see the show from a variety of angles.
With hit songs from Whitney Houston, Madonna, and Cyndi Lauper and "guest appearances" by the likes of such Donatella Versace and Tina Turner, each cast member has their time to shine and sing their hearts out, even if they aren't in that scene of the movie.  Whether you're familiar with the original movie or not, do not miss The Unauthorized Musical Parody of Troop Beverly Hills this summer.  You will be crying tears of laughter as you sing and dance along with this super fun cast of misfits on their way to find love and meaning through the Wilderness Girls of Beverly Hills.
Listen to interviews with the actors!https://www.youtube.com/watch?v=IWbdB0fBwBQ
Saturday and Sunday thru- September 10th, 2016 with optional Thursday shows.
Rockwell Table & Stage
1714 N. Vermont Ave.
Los Angeles, CA 90027
http://rockwell-la.com/
---
Posted By Rachel Flanagan  on August 04, 2016
See the full review on Discover Hollywood by clicking Here