The Toxic Avenger – Hollywood Fringe Review
A review by Rachel Flanagan.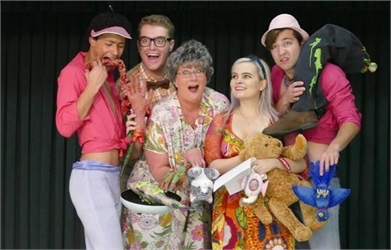 The Toxic Avenger is the epitome of a geek turned hero story in the most unconventional, and yet, most New Jersey way. The Toxic Avenger: The Musical turns this unconventional geek to hero story in a rock musical filled with toxic waste, crime, and love.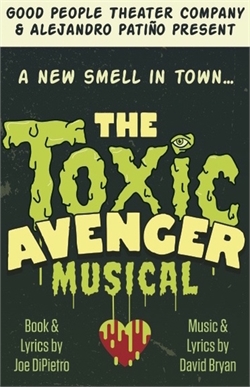 Set in the Tromaville, a toxic waste-ridden town off the New Jersey Turnpike, Melvin Ferd the Third, the biggest nerd in town, wants to clean up the streets and rid the town of its toxic nature.  Melvin is but a huge geek in love with the town librarian Sarah, who happens to be blind.  When the mayor of Tromaville discovers that Melvin knows she is behind all of the toxic waste, she sets her minions out to scare Melvin into dropping his quest to clean up Tromaville.  Unfortunately, being a little carried away, the minions throw Melvin into the toxic waste dump.  He emerges, with a roar, as the Toxic Avenger.  He may not be pretty, but he is no longer a geek and Sarah falls blindly in love with him, she thinks he is a shy guy from France.  Through spectacular songs and dance numbers, will the Toxic Avenger be able to save Sarah, his mother, and the citizens of Tromaville from the mayor and her evil toxic ways?  A wonderful musical created and written by local New Jersey area fans who grew up with the 1984 Lloyd Kaufman's film of the same name.  The cast of the 2016 Hollywood Fringe brought this musical to life so well; you would imagine you were watching this on the most prestigious Broadway stage. There are so many good things to say about Toxic Avenger: The Musical that this is without a doubt the must-see musical of the 2016 Hollywood Fringe Festival.
http://www.hollywoodfringe.org/projects/3539?review_id=18449&tab=reviews
---
Posted By Rachel Flanagan
See the full review on the Hollywood Fringe page by clicking Here
See the full review on Discover Hollywood by clicking Here