Watching OJ – Theatre Review
A review by Rachel Flanagan.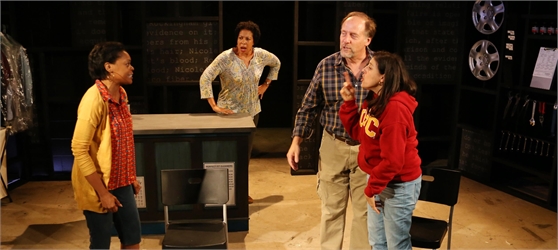 Lisa Renee Pitts, Angela Bullock, Tony Pasqualini and Kelly Wolf.

Photos by Hope Burleigh.
There are moments in your life that define who you are and who you are going to become. Then there are moments in life that people choose to define you and the O.J. Simpson murder trial was one of those defining moments.  This trial affected everyone from those personally involved to anyone who watched at home, in their local stores or even in school. Everyone had an opinion and everyone who watched that verdict on live television on October 3, 1995 either celebrated or fell into devastation by the not guilty decision. Watching O.J. sets a realistic scene on some friends, family and business owners in Los Angeles during the conclusion of this sensational trial.         (Below: Robert Gossett and Lisa Renee Pitts)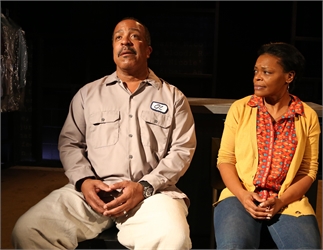 On the morning of October 3, 1995, in an urban business neighborhood in Los Angeles, a diverse group of friends and business neighbors are anxiously awaiting the verdict of the O.J. Simpson murder trial.  Harold Levine, a white man who owns a local dry cleaner (played by Tony Pasqualini) is certain that O.J. is guilty and there is no way that the jury will find him otherwise; why else would they have come to a decision so quickly?  Harold's long time employee Cordia (brilliantly played by Angela Bullock) agrees but after watching the trial so closely, holds on to some reasonable doubt. Meanwhile Oz, (a hilarious and bright performance by Robert Gossett) owner of the nearby auto repair brings laughter to an otherwise intense and serious topic of race and discrimination. Oz thinks O.J. is going to be found not guilty, albeit for a different reason than him actually believing in his innocence.  We also see Jamal, Oz's employee (Kareem Ferguson) who is focused on civil rights yet, much to his mother Cordia's chagrin, only seems to date white women.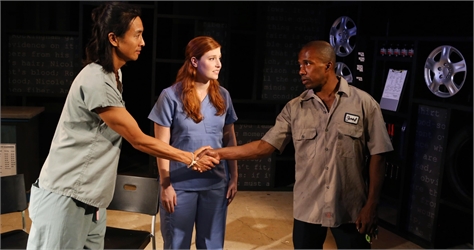 Roy Vongtama, Tarah Pollack, and Kareem Ferguson
Keeping with the diversity there is Allison (Tarah Pollock) an ex-girlfriend of Jamal who does not look at the color of your skin or where you come from but just who you are and sees O.J. as a killer. Rounding out the group is Kim (Lisa Renee Pitts) a local hair stylist with one son who was wrongfully put into prison by being at the wrong place at the wrong time and is searching for a way to protect her youngest son from a similar fate.  Kim finally wants to be on the winning side of things by seeing O.J. walk free. Finally, there is Sheila (Kelly Wolf) a proud mom and wife of an LAPD police officer who knows the hard work that police officers put in to protect every single person. In order to include as many different opinions as possible, playwright David McMillan incorporates the Asian perspective of Derek (Roy Vongtama) who wants O.J. to walk free so that his parents do not suffer from another devastating blow to their business with riots like the ones that destroyed their business after the Rodney King trial.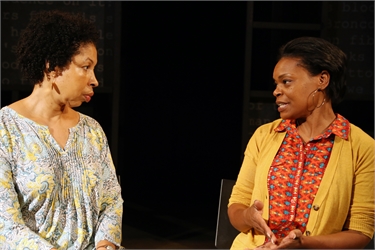 Angela Bullock and Lisa Renee Pitts
Tensions explode in act two after revealing the not guilty verdict. Friends use each other's past against them and black and white lash out at each other as everyone takes the verdict to heart.  Words are spoken that cannot be taken back and sometimes those truths, especially spoken through intense situations need not be said. There is even a twist with dry clean customer Mrs. Osborne, who assumes Cordia, being African-American is happy with the verdict because she is and her other white friends just do not understand how she can believe his innocence.
Back by popular demand, Watching O.J. is currently at the Ensemble Theatre for a one-month limited engagement run offering anyone who missed it another opportunity to see the intensely powerful and critically acclaimed production that sold out in its first run.  With a great cast of characters, a clever soundtrack between set changes and a riveting story with believable viewpoints and traumas, this play eloquently captures the racial tension that still resonates across America today.
Do not miss the opportunity to relive the moment you heard the jury say, "We, the jury in the above-titled action, find the defendant Orenthal James Simpson not guilty of the crime of murder" that will stir up a sense of déjà vu and self-reflection that the audience will still be talking about on the ride back home.
Watching O.J. will be playing Friday and Saturday at 8pm and Sundays at 2pm through February 28 th at the Ensemble Theatre.
http://www.watchingoj.com/
Ensemble Theatre
3269 Casitas Avenue
Los Angeles, CA 90039
---
Posted By Rachel Flanagan on February 08, 2016
See the full review on Discover Hollywood Here.