White Christmas – Theatre Review
If you are looking for a white Christmas in Los Angeles this holiday season, look no further than the Pantages Theatre.  Directed and choreographed by Randy Skinner, the dazzling White Christmas returns for a one-week engagement this holiday season. The classic 1954 film is an annual holiday treat for many people young and old, and the Broadway production does not disappoint.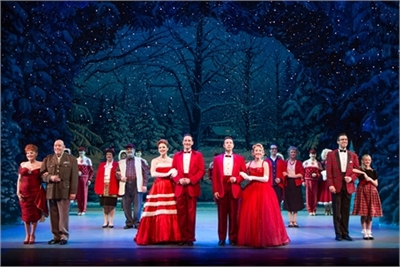 Just like the movie, the show starts on Christmas Eve in 1944 in the middle of a war zone where song and dance partners Bob Wallace and Phil Davis are performing Christmas tunes to brighten the mood. Bob (played by Bing Crosby in the film) is played by Sean Montgomery who gives the straight-shooting character a warm and endearing undertone whereas Jeremy Benton plays the fun-loving Phil (played by Danny Kaye in the film) with high energy and liveliness that showcases their chemistry together. After the war, Bob and Phil become successful entertainers performing on the Ed Sullivan Show (thanks to another wartime buddy, Ralph Sheldrake brought to life with great fervor by Dave Schoonover).  Eventually Bob and Phil, thinking they are doing a favor for another war buddy, meet the Haynes sisters, Betty and Judy, to see their nightclub act and possibly take them on the road. Judy (Kelly Sheehan here; Vera-Ellen in the film) and Phil find an instant connection and fall in love.  Bob, who Phil is always trying to set up, thinks Betty (Kerry Conte here; Rosemary Clooney in the film) is beautiful but the two of them find themselves at odds. The chemistry between the cast is brilliant as Phil schemes to get himself and Bob on the train to Vermont with the sisters instead of performing for Christmas in sunny Florida! Brilliant song and dance numbers and scenery fill the stage as the two couples find themselves in Vermont during a heatwave at an otherwise empty Pine Tree Inn.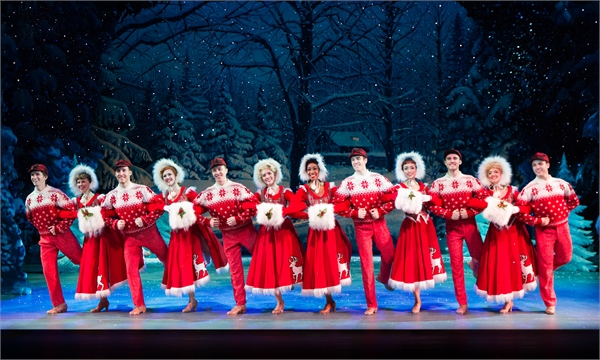 The audience meets the inn's owner's boisterous assistant, Martha Watson (Lorna Luft), and the owner's granddaughter, the very cute Susan (played by Clancy and Samantha Penny alternating parts) who is very studious until the entertainment bug hits her! It turns the heat wave has just added to the financial burden the Inn is already under but the owner, retired General Henry Waverly (a stern man played by Conrad John Schuck who gives just a touch of kindness to the role) has no idea how deep his debt is. When Bob and Phil realize that their old General is in trouble, they devise a plan to bring as many people as they can to the Pine Tree Inn for a Christmas performance they will never forget. As Bob, Phil and Judy are scheming to get the Christmas extravaganza together, Betty begins to have second thoughts on their intentions and goes off to perform a solo act in New York City. With Christmas looming closer, the troubles mounting and comedic interludes from the Inn helper Ezekiel (comedic relief by Frank Ridley) making temperatures 9and laughter) rise, will everything come together for a truly dazzling White Christmas performance?
The glittering production transitions seamlessly from set to set with spectacular choreography and a powerhouse acting ensemble. Filled with Irving Berlin's standards, many of which are not used in the film, you'll be singing along with songs including "Happy Holiday", "Let Me Sing and I'm Happy", "Blue Skies", "How Deep Is the Ocean", "Count Your Blessings", and the fantastic tap number, "I Love a Piano" and title tune. White Christmas is a memorable and heartwarming production that lives on through the young and the old. So grab your tickets here while you can and you'll soon be dreaming of your own white Christmas.
---
Posted By Rachel Flanagan on December 01, 2016
See the full review on Discover Hollywood by clicking Here