Women w/o Walls – Theatre Review
Reviewed by Rachel Flanagan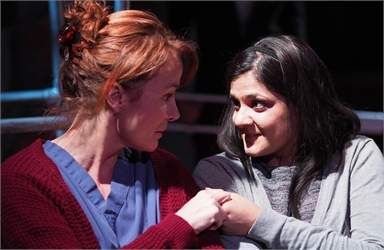 Kristin Carey and Esther Mira. Photo by Alex Moy
Women w/o Walls is a new twist on the story of Charon the ferryman on the River Styx as he transports the dead to a final resting place.  Using concepts from both Dante's Inferno and Sartre's No Exit, Women w/o Walls tells the story of three women who become intricately involved in each other's stories as they explore the fine line between life and death with their own version of Charon accompanying them along the way.  Presented as the sophomore effort of Broads' Word Theatre, which produces theatre by and about women, for everyone, will take you on an exhilarating ride through the netherworld.
(left) Esther Mira & Jen Albert. Photo By Alex Moy
Rather than being set in Hell, the scene is a New York City Subway train, which, I guess, could be a form of Hell to some. Pamela is a spoiled young woman from the Upper East Side and just as she boards her first Subway train, she is greeted by a Nurse (Kristin Carey). The Nurse speaks in an incredibly comforting yet powerful way and quickly Pamela realizes that this train is not going to be the shortcut she thought it would be. Soon after, Inez (Jen Albert) a homeless woman whose health is quickly dwindling and Tank (Natalia Ochoa) a music-obsessed girl from the streets with an attitude join Pamela and the Nurse on their ride. As their journey accelerates through underworld of New York, the women soon realize they are heading toward the mythical regions of the other side with no chance to exit.
Each woman brings their character to life even if their final destination is death.  They are confronted with the anguish of looking at the past, facing the reality of the presence and the freedoms that come with choice.  The cast does an amazing job at not only making you feel like you are on the ride with them but also feeling the same compassion and intensity of human existence and the finality of death.   Women w/o Walls is existentialism at its finest and will pose the question, when your journey ends, which color will you choose?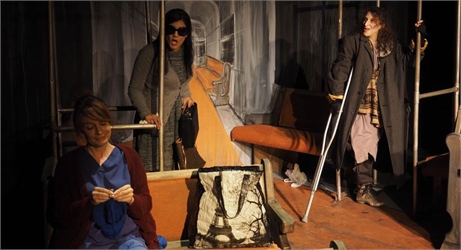 Kristin Carey, Esther Mira and Jen Albert. Photo: Alex Moy
Women w/o Walls is written by award winning playwright Robin Rice, directed by Frances Loy, produced by Tara Donovan, Artistic Director Danielle Ozymandias and Associate producer Esther Mira. The show opened on November 8 th at the Lounge Theatre with performances Fridays and Saturdays at 8pm and Sundays at 4pm through Saturday, December 12 th.  On Sunday, December 6 th, there will be a talk back with the Writer, Director and Cast after the performance. Running time is about 85 minutes.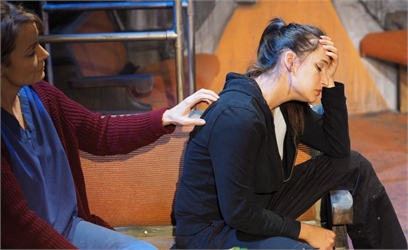 Lounge Theatre 2
6201 Santa Monica Blvd
Los Angeles, CA 90038
http://www.theatreplanners.com/index.html
Kristin Carey and Natalia Ochoa. Photo by Alex Moy
---
Posted By Rachel Flanagan on November 16, 2015
See the full review on Discover Hollywood Here.